To Inner Mongolia to perk up adrenaline this national holida
时间:2022-01-13 06:57来源:未知 作者:-1 点击:170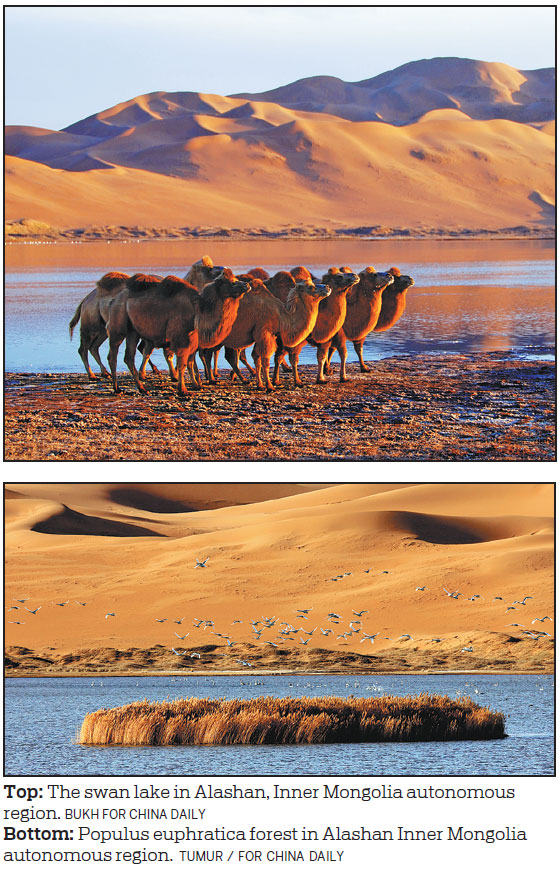 Du Fei, a 22-year-old bank clerk in Beijing, has to sit a lot at work. To break the monotony, whenever he gets time during weekends or vacations, he travels. This national holiday, he will be do more than that to change his otherwise laidback life. He will be going to Inner Mongolia autonomous region for the auto cross-racing held there every October.
  Going to the racing club event is not just about cars, he says. Ill also get to befriend people who share the same hobby and enjoy the local tasty food and drinks. Its all about relaxing and doing what you like in a seemingly remote place, away from the chaos of the cities.
  Ever since the first cross-racing event called Hero Club was organized in 2006, Inner Mongolia has been attracting more and more car fans to the adrenaline-pumping speed event every October, not to forget the natural beauty of the area. Since 2011, the event is being organized in Alashan League of the region.
  The event usually lasts around a week, the longest one having lasted a whole month in 2017. This year, according to the local government, which is also a co-organizer, the event will be held from Oct 1 to 5.
  There, participants can enjoy the natural environment. We will build food streets and night fairs this year, she said. For accommodation, many peoples main concern, we have built a tent community that can house more than 3,000 people.
  Inner Mongolias unique landscape is definitely a cant miss. Theres the fantastic desert scenery, the graceful Helan Mountain, ancient cultural relics and the unique customs of the Mongolian people.
  A poplar forest in Ejine Banner is the most visited location and an important part of the Alashan desert world geopark in the area. Ejine Huyanglin, which means Ejine Poplar, is considered the best location in the world to enjoy this plants beauty. The movie Hero, by director Zhang Yimou, was shot in this area.
  Natural wonders one should not miss in Alashan Right Banner include the worlds highest sand dune, the echoing sand and mirror-like desert lakes in the Badain Jaran Desert. Helan Mountain and Tenger Desert are the most popular tourist spots in Alashan Left Banner.
(责任编辑:)
关键字
Inner,Mongolia,perk,adrenaline