Village draws urban visitors with Tujia culture
时间:2022-01-13 07:03来源:未知 作者:-1 点击:196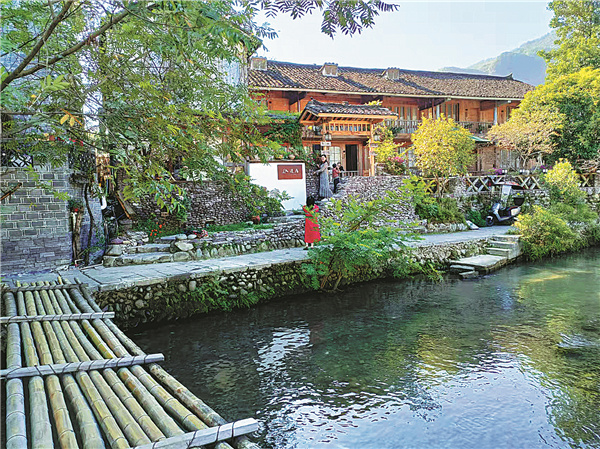 Yunshe in Guizhou province draws tourists with its amicable weather, natural beauty and ethnic culture.[Photo provided to China Daily]
  Yunshe draws tourists with its amicable weather, natural beauty and ethnic culture. Visitors can feast their eyes on the green scenery once they set foot in the village that sits in Jiangkou county, Guizhou province, at the foot of the Fanjing Mountain.
  One can appreciate folk songs and dances of the local Tujia community, ancient papermaking techniques and a wetland park at close quarters, while taking in the mysterious Shenlongtan, to the east of Yunshe. The spring water at the scenic spot sometimes flows backward and the Tujia people use it to predict the weather.
  Many travelers have been charmed by the primitive natural atmosphere of Yunshe, where women wash clothes by a creek, and men remove weeds on river banks with a sickle. Children chase one another.
  Tang Ji chose to stay in Yunshe and run a homestay business after Fanjing was added to UNESCOs World Heritage list for natural sites in 2018 for its rich wildlife, including endangered plants and animals. He was born in Jiangkou and engaged in space design in Guangzhou, Guangdong province, after graduation from the Xian Academy of Fine Arts. He was attracted to the rustic charm of Yunshe during his earlier travels.
  You can soak your feet in the gurgling water to beat the summer heat, and play with ducks in the river, Tang says. It is a rare hidden getaway that is also full of mundane life.
   123Next>>
(责任编辑:)
关键字
Village,draws,urban,visitors,w