Ice-snow tourism booming in China as Beijing Winter Olympics
时间:2022-01-13 07:14来源:未知 作者:-1 点击:147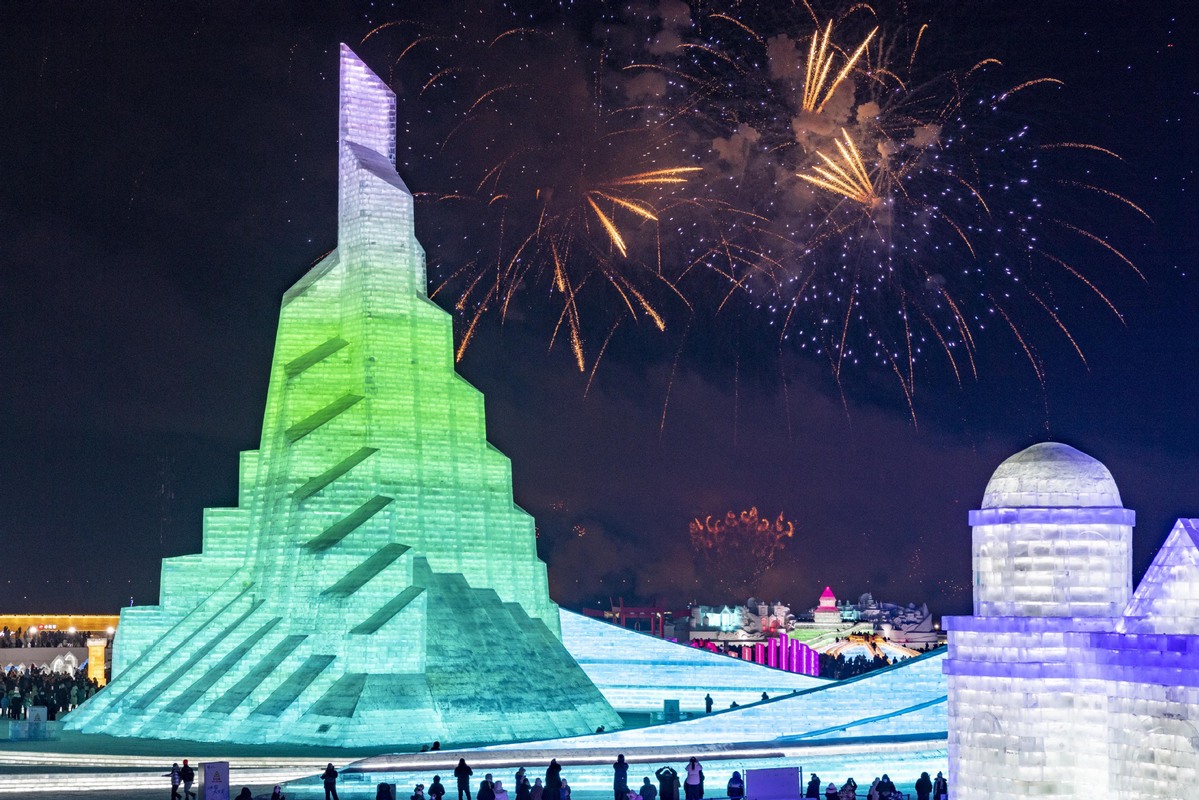 Ice and Snow World is a famous seasonal attraction in Harbin, capital of Heilongjiang province.[Photo/Xinhua]
  Every winter in Northeast China, the coldest places are often the hottest tourist spots. This is especially true at the moment, with the 2022 Beijing Winter Olympics just around the corner and the Chinese peoples passion for the cold greater than ever.
  Ice and Snow World, a famous seasonal attraction in Harbin, capital of Heilongjiang province, was bustling with tourists during the recent New Year holiday, which lasted from Saturday to Monday.
  Covering an area of 820,000 square meters, the park used some 230,000 cubic meters of ice and snow to create 65 different landscapes this year, with the popular super ice slide attraction extended to 423 meters.
  Comprehensive COVID-19 prevention measures are in place. Visitors can be seen lining up in an orderly manner at the gate, scanning their health codes and having their temperatures taken before entering the park.
  Park tour guide Liu Lu spends about six hours in the freezing weather every day, showing visitors the sights and telling them how the ice was collected and how the park was built.
  When I see tourists enjoying the park, I see the value of my job and dont feel cold at all, Liu said.
  Located in the Changbai mountains, the Snow village in Heilongjiangs Hailin city kicked off its annual tourist season on Dec 29, when local temperatures dropped to around minus 20 degrees Celsius, transforming the village into a snow-capped wonderland.
  Fan Zhaoyi runs a homestay in the village. Days before its opening, he stored plenty of food and had some maintenance work done in preparation for the incoming tourist rush.
  Fan said the attraction has become increasingly popular with visitors from south China, where impressive snowy scenery is hard to find. In the northern village, snowy weather can last seven months a year.
  The village has conducted emergency drills for all staff and provided training on infectious disease prevention and emergency response. It is also equipped with a mobile nucleic acid testing laboratory with a daily testing capacity of 10,000 samples.
   12Next>>
(责任编辑:)
关键字
Ice-snow,tourism,booming,China