Sinologist gave vivid account of Chinese history
时间:2022-01-13 07:17来源:未知 作者:-1 点击:150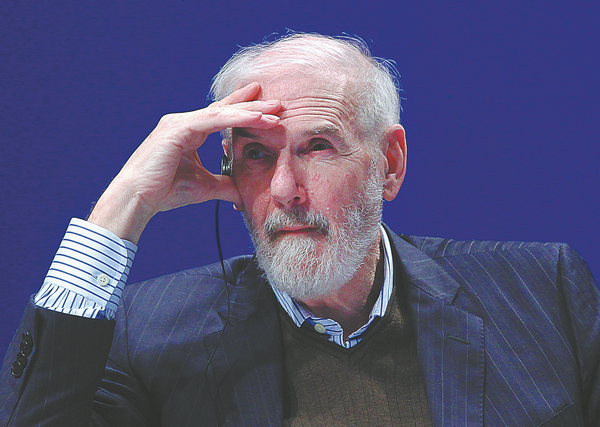 Jonathan D. Spence
  Jonathan D. Spence, an eminent British-born American historian, Sinologist and author, died on Sunday at the age of 85.
  Born in London in 1936, Spence studied British history at Cambridge University. In 1959, winning a scholarship, he went to Yale University on an exchange program and changed his direction to Chinese history.
  At the introduction of his supervisor at Yale, Mary C. Wright, Spence went to Canberra to work with Chinese historian Fang Chaoying for his doctoral dissertation on Cao Yin, the grandfather of Cao Xueqin, the author of Dream of the Red Chamber, and Kangxi, the fourth emperor of the Qing Dynasty (1644-1911), during whose reign Caos family thrived. Fang gave Spence his Chinese name Shi Jingqian after the historian and writer Sima Qian from the Han Dynasty (206 BC-220).
  The dissertation not only won Spence the John Addison Porter Prize and a teaching position at Yale, but also nurtured his strong interest in Kangxi. In 1974, Spence published his first book, Emperor of China: Self-Portrait of Kang-hsi, narrating the history about the emperor from a first-person angle. The book was well-received in the United States.
  Since 1974, Spence had completed 14 works about Chinese history, including The Search for Modern China, To Change China: Western Advisers in China, The Memory Palace of Matteo Ricci, Treason by the Book and The Death of Woman Wang.
  In the preface to the Chinese translation set of Spences books, the chief editors Cheng Pei-kai and Yan Xiu write that The Search for Modern China best displays his rich knowledge and deep understanding of Chinese history and his fluent writing style.
  Unbiased and objective, his writing was full of his sympathy with and his understanding of Chinese history, so that Western readers can understand that China is a real place, and that even if they cannot identify themselves with the development of Chinese history, they can see the historical figures who lived and struggled in it. In certain dark historical periods, these people with blood, flesh and feelings tried to pursue a silver lining to the unknown future.
  Cheng, professor and director of the Chinese Civilization Center of City University of Hong Kong, was also one of Spences first PhD students at Yale.
  The book became a best-seller in Europe and the US. Whats more, since 1990, it has become a textbook of Chinese history at Western universities, influencing generations of college students and scholars.
  The books that followed, such as Gods Chinese Son: The Taiping Heavenly Kingdom of Hong Xiuquan, Treason by the Book and Return to Dragon Mountain: Memories of a Late Ming Man, sold well in the West. Translated into French, German, Italian, Chinese, Korean and so on, Spences books provide vivid historical stories about China that can be easily followed by readers around the world.
  In 1974, Spence paid his first visit to China with 14 other colleagues from Yale. They toured Beijing, Tianjin, Shanghai and Guangzhou.
(责任编辑:)
关键字
Sinologist,gave,vivid,account,