Art gives emhutongem a sense of community
时间:2022-01-14 19:58来源:未知 作者:-1 点击:181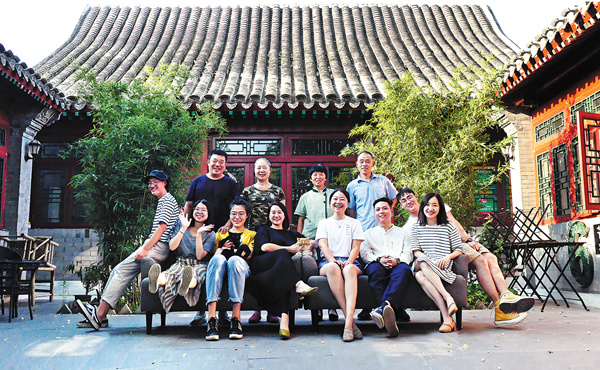 A group photo of Niu Ruixue (fifth from left, front row) and the rest of the team from 27 Yard in Beijing.[Photo provided to China Daily]
  Neighborhood revitalization project brings generations together in creative ways that celebrate a real feeling of belonging, Cheng Yuezhu reports.
  The oasis in central Beijings Dongcheng district provides shelter from the hustle and bustle of the capital. Its name offers no clue to its traditional appeal but 27 Yard is actually a Beijing-style courtyard, with gray tile roofs, crimson doors, a tree that has witnessed passing generations taking shade, and cats lying lazily nearby soaking up what sunlight there is.
  The courtyard has a vibrancy, a pulse of its own, with a variety of events taking place on a daily basis in its 10 main spaces that host a shop, a gallery, a reading area and a multimedia hall.
  Since 2016, it has been offering refreshing experiences to both nearby residents and visitors attracted by its reputation, from hobby groups and workshops to exhibitions and performances.
  However, when Niu Ruixue, founder of 27 Yard, also known as the Chaoyangmen Cultural Center, first visited the courtyard in 2016, it was down at heel, with dusty, undecorated rooms and shabby facilities.
   1234Next>>
(责任编辑:)
关键字
Art,gives,emhutongem,sense,com