Nurturing a younger generation
时间:2022-01-14 19:59来源:未知 作者:-1 点击:95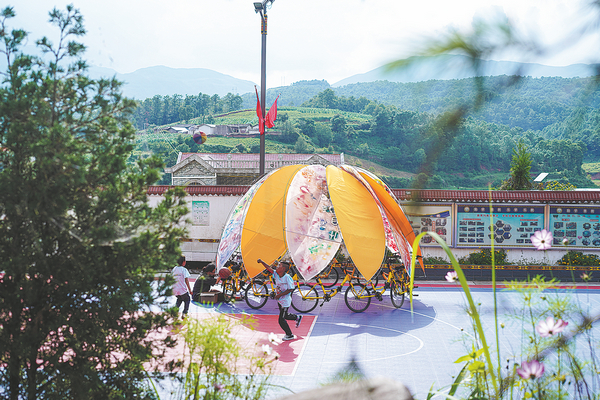 Children create a carousel-like installation, called Blooming Time, in Puge county, Liangshan Yi autonomous prefecture, Sichuan province, as part of a program helping cultivate youngsters creativity in rural areas.[Photo/China Daily]
  Under the cloudy night sky lit by fireworks, a group of schoolchildren takes a carousel ride to celebrate a traditional torch festival in Puge county, Liangshan Yi autonomous prefecture, Sichuan province.
  This carousel is a new toy they make themselves-with 12 bicycles joining each other to form a circle. The inside space is dotted with colorful solar lamps.
  As the 12 children ride the bicycles, the bright yellow installation turns round and round-just like a carousel in theme parks.
  The torch festival, which fell on Aug 2 this year, is for the Yi people to pray for a good harvest. Although the COVID-19 pandemic has prevented large-scale celebrations, the children did get a new fantasy instead.
  Nan Xueqian is one of the initiators of Program Spark which helps nurture the creativity of children. The bicycle installation, Blooming Time, is inspired by the strong emotional connection among children.
  It was the fourth time Beijing-based One Take Architects, together with Wuhan-based social enterprise group, Sunners, launched the weeklong program. It aims to motivate left-behind children-8 to 12 years old-to use easily available material to create large playthings for themselves under the guidance of architects and volunteers.
   12345Next>>
(责任编辑:)
关键字
Nurturing,younger,generation,C